Volunteers from Willmott Dixon lent their skills to help refurbish a local children's hospice in Birmingham.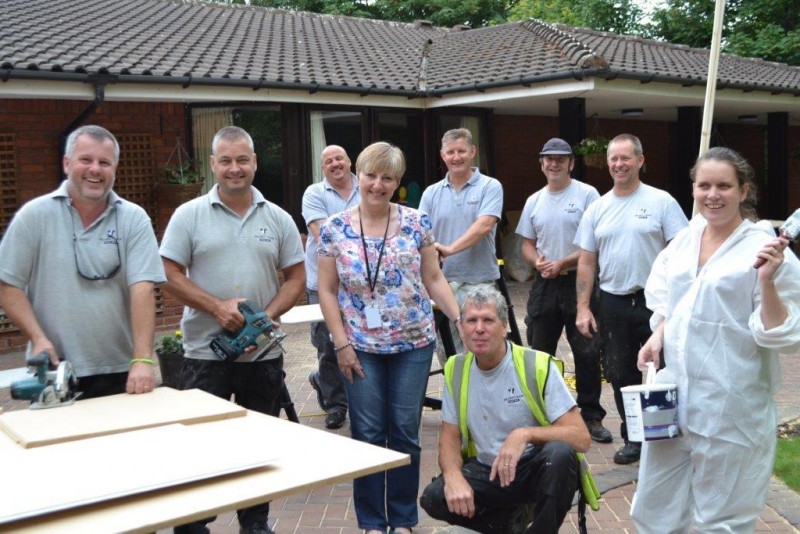 Teams from the company's Birmingham branches carried out repairs and maintenance at Acorns Children's Hospice, in Selly Oak, as part of the charity's Clean and Clear Week. Assisted by kind donations from Travis Perkins, Benchmarx & Matrix Hardware, the team built new shelving, refurbished the kitchen in the family flat, carried out flooring work, added a new fridge/freezer, reconstructed an old sluice and provided a lick of paint to everything.
Acorns Children's Hospice in Selly Oak, Birmingham provides 24 hour specialist care for life threatened children and young people who are not expected to reach adulthood, and their families.
This is the latest in a long line of work for Acorns, with Willmott Dixon previously delivering essential cleaning and decorating as well as using its skills to build new play rooms and storage facilities.
Willmott Dixon's Customer and Community Partner Melanie Checkley said: "This is the fifth year that we've supported Acorns during their Clean and Clear Week and it's fantastic to see how the hospice keeps developing. Last year we installed a new kitchen and we're really pleased to be able to return again this year and further improve the facilities. Acorns is such a prominent local charity, which does wonderful work in the community. We're very proud to be able to offer the team here our long term support."
Chris Reed from Acorns Children's Hospice, said: "It costs £750 to fund a day of care for a child in the hospice. We are very grateful for all the help given as the money saved on repair and maintenance work means more funds available to support children and families who use our services."
Mick Williamson, Managing Director of Willmott Dixon Partnerships said: "As a company we are working to make a real and positive difference to the lives of people living locally. We aim to do this through volunteer projects, fundraising initiatives, and charity partnerships with organisations such as Acorns Children's Hospice.
"We want to play an active part in delivering initiatives that leave a real legacy and work to share these ideas through our Transforming Communities report, to help organisations deliver sustainable growth and help communities through these current austere times."
The refurbishments come weeks after the community actions of Willmott Dixon staff received a Royal seal of approval, with the company achieving a Queen's Award for Enterprise in Sustainable Development. One of the areas highlighted by judges in making the award was the £1 million worth of community investment made by the company and staff each year to local good causes.
Willmott Dixon Partnerships is currently working with Birmingham City Council to repair and maintain 60,000 properties in the city. Its two contracts for the north and south of the city includes the areas of Edgbaston, Hall Green, Northfield, Selly Oak, Ladywood, Erdington, Perry Bar and Sutton Coldfield.