The Environment Secretary Elizabeth Truss MP saw first-hand how Willmott Dixon is backing the home grown timber industry on a major housing project in Kilburn, North London.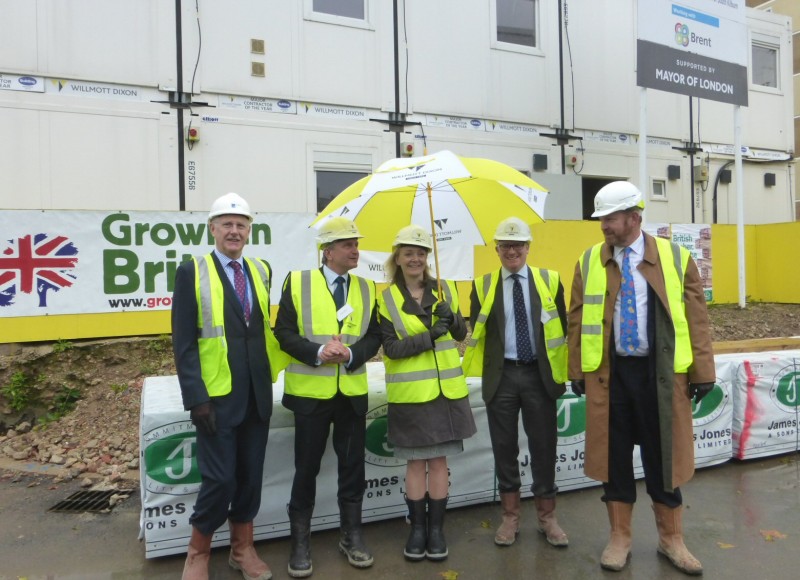 UK-sourced timber is one of the main components in Willmott Dixon's scheme to build 208 homes in South Kilburn for Catalyst Housing as part of the multi-phase South Kilburn Estate Regeneration programme in the London Borough of Brent.
The Secretary's visit was an endorsement for the 'Grown in Britain' campaign to create a sustainable future for UK forests and woodlands by bringing together a broad range of interests who recognise the important role UK-grown timber plays for people, wildlife and economy.
Dougal Driver, CEO of Grown in Britain said; "Buying more British timber creates jobs and employment opportunities for rural communities, increases green growth and provides a greater incentive to better manage our forests and woodlands. It also recognises the need to continue planting more trees for future generations. It's great to see companies like Willmott Dixon put the economic engine back into UK forestry."
The UK forest industry and timber processing sector is a significant success story with UK timber production increasing by 28% in the last 5 years.
Elizabeth Truss MP said: "Forestry plays a critical role in our economy, providing the raw materials used by many businesses in the UK. The British timber industry is now the seventh largest in Europe, and Grown in Britain is doing brilliant work in increasing the demand for British wood products and attracting investment to the sector."
Charlie Scherer, Chief Operating Officer for Willmott Dixon Housing said: "A stronger UK timber industry is better for our business. Operating in the construction, maintenance and retrofit sectors, we use a vast amount of timber. With global demand for timber set to triple by 2050, the more the UK is able to meet its future needs, the more sustainable and resilient we will be as a sector. We want to play an active part in delivering initiatives that leave a real legacy and supporting Grown in Britain is a clear way in which we can make a difference in local communities for generations to come. "