Willmott Dixon has helped the WWF-UK achieve its vision for a super-sustainable BREEAM outstanding home that will showcase its wildlife conservation work to thousands of visitors a year.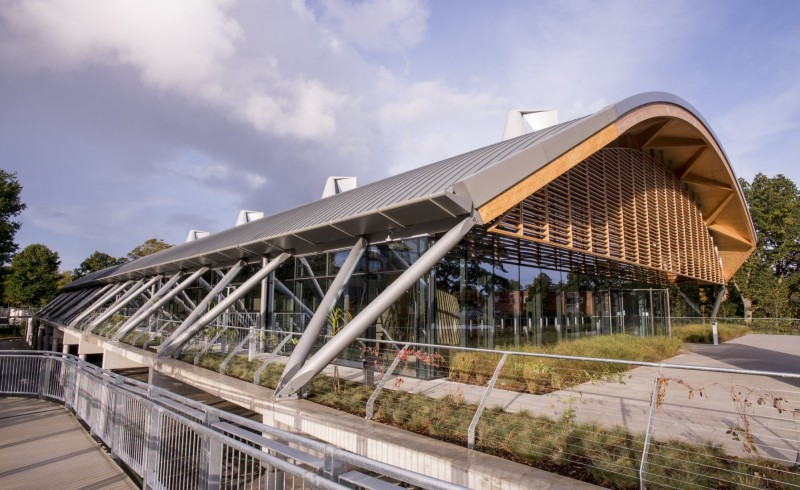 Called The Living Planet Centre, the highly interactive new facility allows the WWF to connect, engage and bring to life its activities protecting and preserving the natural world to thousands of people a year through the unique WWF Experience which includes four different Learning Zones.
The new UK hub of the charity's international network in Woking also provides a spacious, open plan new working environment for WWF's 300 UK based staff, who have relocated from its previous base in Godalming.
As the company responsible for building The Living Planet Centre, Willmott Dixon made sure it was constructed to the highest sustainable standards as part of the overarching goal to achieve a BREEAM outstanding rating. This was essential to WWF's commitment to ensure resources used in the building came from sustainable sources, with key highlights of The Living Planet Centre's construction including:
• 80% of aggregates used by volume throughout the construction was recycled
• 98.9% of building elements classed as Responsibly Sourced by the BRE
• So far, it's classified as BREEAM outstanding at design stage, with a final targeted BREEAM rating of 90.5%
• An industry leading 99% of construction waste diverted from landfill
• Materials had 42% reduction in embodied carbon through design and procurement choices
A vivid and memorable feature of the Centre is its 80m arched diagrid curved timber roof using extensive glass to cascade the entire building with daylight, while four specially-designed recycled aluminium wind cowls provide natural ventilation as air circulates through the Centre. The water management system includes rainwater harvesting and recycling.
Importantly, all timber used is responsibly sourced and the story of the building's environmental construction and performance features in the visitor centre.
The Living Planet Centre was designed by Hopkins Architects and sits on a raised platform. The entrance includes the WWF Experience with four interactive, self-contained learning zones that focus on forests, rivers, oceans and wildlife, interwoven with WWF's work showing how people are intrinsically linked with the natural world. WWF will invite schoolchildren and teachers to the Learning Zones as part of their programme of curriculum focused workshops for primary schools.
John Waterman, managing director of Willmott Dixon at the company's Cobham office said, "We have a fine track record for delivering sustainable buildings that influence and shape thinking on future projects. We've seen this in schools, health and leisure facilities and with the Living Planet Centre we're proud to have worked with WWF to create a fantastic facility that will push the barriers of what we can achieve with sustainable property."
Willmott Dixon has already delivered BREEAM outstanding ratings for Hope Academy, Houghton Health Centre and Ashmount Primary School.
The Living Planet Centre is located between a canal and woodland and CEO of WWF-UK David Nussbaum said, "This was a brownfield site and the Borough of Woking is committed to sustainable development, so we're delighted that this will be a landmark building in this community."
The total cost of the Living Planet Centre project is approximately £20 million.
For more information visit: www.wwf.org.uk/livingplanetcentre