A group of management trainees from construction company Willmott Dixon led a 'Groundforce' style makeover of Slade Gardens Youth Centre and Adventure Playground in Stockwell, providing £70,000 of time and materials to transform the facility.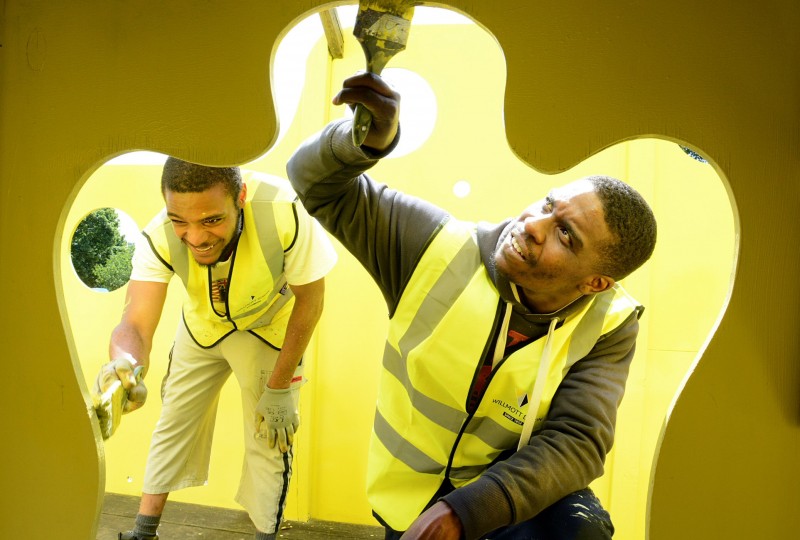 Working in partnership with its key suppliers and the charity London Youth, the team from Willmott Dixon's interior fit-out company spent a full week renovating the youth centre at Slade Gardens by adding new flooring, lighting, heating systems, doorways, storage and double glazing. They also painted the entire outdoor surrounding play area at the site.
Willmott Dixon management trainee Natalie Briden explains, "Each year all trainees at Willmott Dixon are challenged to complete a task that supports a local community resource. We decided to devote our attentions to Slade Gardens Youth Centre as it's an important place used for toddler and youth activities that was in desperate need of a refresh following a recent Local Authority inspection that deemed it 'not fit for purpose'. We needed to help and have given it a new lease of life."
It also gave five young people from London Youth a chance to gain work experience and learn interview and CV presentation skills, along with H&S and environmental training.
Slade Gardens Youth Centre manager Robin Langton says, "In 1999 the local people of Stockwell took over the running of this long established adventure playground off the Lambeth council rather than let it be closed. It is an essential local asset that is popular with children through the summer but its condition made it almost unusable during the colder months; until now."
"By making Slade Gardens Community Play association their community investment project, Wilmott Dixon, along with London Youth, has totally changed the future of our facility. Now the huts can be used throughout the year and not just for the children. It gives us the opportunity to create an essential income source from letting out the huts for a variety of local community uses, which will in turn subsidise the adventure playground and its associate social projects, guaranteeing their future for possibly another fifteen years."
Willmott Dixon has a goal to improve the lives of 3,000 young people by 2015 and this project was part of meeting this target. It was no cosmetic make-over, with the team completely renewing the youth centre, even making good an external wall around entrance door which was starting to rot as well as adding new storage and table tennis equipment.
Joining the Willmott Dixon team were members of its supply chain, with all materials being offered free by the suppliers, while the trainees took charge of project management. Natalie continues, "By the end of the week, this makeover has made the centre suitable and fit for purpose for many years to come."