Willmott Dixon is expanding its presence in Liverpool with a £8 million contract to transform a prominent tower block
The company has been appointed by Liverpool Mutual Homes (LMH) to overhaul the 15 storey Marwood Tower and transform it into 81 modern apartments for over 55s. The local landmark is situated between Great Homer Street and Kirkdale Road and its revamp is part of the wider Project Jennifer development along Great Homer Street.

This latest project builds on Willmott Dixon's extensive recent work to update schools in the city, with the company recently completing Notre Dame and Archbishop Beck secondary schools (see Archbishop Beck timelapse below). It will complete a third secondary school, Archbishop Blanch, this summer.



The Marwood Tower scheme, designed by John McCall Architects, forms part of the new Liverpool Housing Partnership forged between Liverpool City Council, Liverpool Mutual Homes, Redrow Homes and Willmott Dixon to deliver 1,500 new homes and bring a further 1,000 back into use across the city. It will see 57 flats completely refurbished and 24 new apartments built to provide a mixture of one and two-bed properties.

A new arc around the base of the tower will be built that includes a courtyard garden and a community consultation exercise is taking place to decide the designs and features. The old and new buildings will be linked by covered walkways that open in the centre of the courtyard.

Assistant Director of Development at LMH, Chris Bowen, said: "The Marwood Tower scheme is going ahead at great pace after planning permission was granted. Willmott Dixon has great experience in social housing and are our lead building contractor partner under the Liverpool Housing Partnership for bringing empty properties back into use.

"It is a complex scheme with just one point of entry so it will take longer to complete than a traditional housing development but we expect the work to be finished in autumn 2016, which will be a great achievement. Liverpool needs more high quality housing, which is why we are supporting the Homes for Britain campaign and delivering large scale projects like Marwood Tower.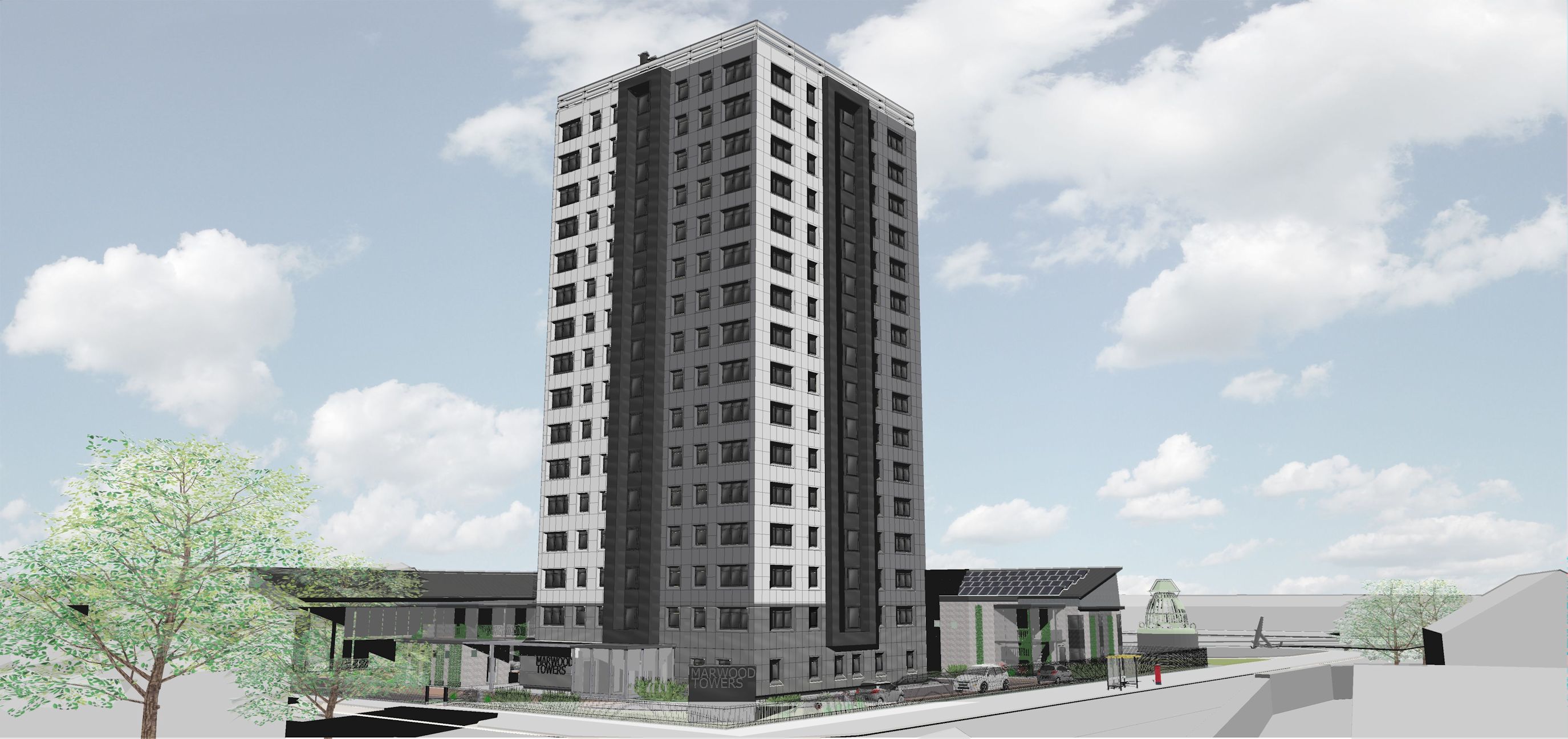 Cllr Ann O'Byrne, Cabinet Member for Housing at Liverpool City Council, said: "This is an exciting scheme which will completely transform the tower block and create much-needed good quality accommodation. This is another example of where we are working with partners and being creative in finding new ways of re-using existing buildings and sites to meet our commitment to build 5,000 new homes and bring another 1,000 back into use."
It is Willmott Dixon's first housing project in Liverpool.

Stuart Belfield, Operations Director at Willmott Dixon, said: "We are delighted to have been appointed to redevelop Marwood Tower and play a role bringing precious empty properties back into use. We are particularly looking forward to making a difference in the community, creating local jobs throughout the works and delivering high quality housing that residents will be proud to call home."