Climate change is, without doubt, one of the biggest challenges the world faces today, and as a responsible business, we must play our part in addressing this. It takes a significant amount of energy to manage our operations, and construct buildings. But we are reducing the amount of energy we use year-on-year as we find new ways of becoming more energy efficient.
Halving carbon emissions by 2020
In 2015 we set an industry-leading target to halve carbon emissions intensity by 2020 (compared with 2010). By the end of 2018 we had reduced our emissions intensity by 59%, beating our target three years early.
Since then, we've further reduced our emissions bringing our total emissions intensity reduction to 66% by the end of 2020, a reduction of 13% compared to 2019. The vast majority of our projects remained active during 2020, despite this year's restrictions. The reduction in emissions is mainly due to lower transport emissions, as a result of reduced travel. The 2020 data includes estimated emissions from homeworking1.
We calculate our carbon footprint using international standards (the Greenhouse Gas protocol and ISO14064) and we categorise our Greenhouse Gas emissions as Scope 1, 2 and 3 as described in the WBCSD/WRI Greenhouse Gas Protocol Reporting standard (revised edition, March 2004). Emissions have been calculated as tonnes of carbon dioxide equivalent (tCO2e) for Scope 1, 2 and selected Scope 3 sources using conversion factors listed in the relevant Defra Greenhouse Gas Conversion Factors for Company Reporting for the relevant year. All Scope 2 emissions were calculated using the location-based methodology. Our carbon footprint is verified by The Carbon Trust and our data is verified by Bureau Veritas.
We adopted an operational control approach to the calculations, whereby we include anything that we directly pay for, within Scope 1 and 2, as well as for selected Scope 3 emissions. The reason is that these are emissions that Willmott Dixon is able to influence and control. Our scope for this target includes emissions from site and office gas, site diesel, site and office electricity (including transmission and distribution losses), company car and grey fleet business and commute mileage, train travel for both business and commuting and working from home equipment and heating estimations (new data for 2020 as a result of the pandemic).
Carbon emissions
| | | | | | | | | | | | |
| --- | --- | --- | --- | --- | --- | --- | --- | --- | --- | --- | --- |
| | 2010 | 2011 | 2012 | 2013 | 2014 | 2015 | 2016 | 2017 | 2018 | 2019 | 2020 |
| Total Willmott Dixon emissions (tCO2e) | 14,141 | 14,239 | 14,337 | 13,659 | 11,449 | 11,294 | 9,227 | 8,568 | 8,523 | 7,635 | 6,375 |
| Intensity - emissions relative to turnover (tCO2e/£m) | 15.77 | 15.72 | 15.66 | 15.19 | 13.81 | 10.07 | 8.59 | 6.61 | 6.44 | 6.13 | 5.35 |
Energy
In line with best practice of the Government's Streamlined Energy and Carbon Reporting, which are part of The Companies (Directors' Report) and Limited Liability Partnerships (Energy and Carbon Report) Regulations 2018, we also report our energy use. As of 2019, our energy footprint has been externally audited by Bureau Veritas. Our energy scope follows the same methodology as our carbon reporting set out above (using kWh rather than tCO2e). However, our energy footprint also includes energy from activities on site where we have consumed the energy but are not directly paying for it (mainly customer electricity).
Energy Use
| | | |
| --- | --- | --- |
| | 2019 | 2020 |
| Energy Use (including customer procured energy) (kWh) | 35,830,867 | 29,818,813 |
| Energy Use (excluding customer procured energy) (kWh) | 29,800,766 | 25,813,221 |
Zero carbon targets
Following the success of our 2020 carbon target, our Now or Never strategy commits us to going even further and achieving zero carbon in both our own operations and within our supply chain. We will report on our progress towards meeting these targets from 2021 onwards.
We will be a zero-carbon company without any offsetting by 2030
In 2020 we were amongst the first 213 organisations worldwide to set a science-based target, aligned with limiting global warming to 1.5°C, to become zero-carbon in our operations by 2030. Our aim is to reduce our own emissions to zero so that we will no longer need to offset our carbon footprint. Our approved target requires us to include our scope 1 & 2 emissions, however we have opted to go even further by also choosing to include scope 3 emissions from transport (more below).
Our supply chain will achieve net zero operational carbon by 2040
In addition to reducing emissions from our own operations, we have also committed to reduce absolute scope 3 GHG emissions from purchased goods and services 55% by 2030 and 100% by 2040 from a 2018 base year.
The Climate Group
In 2020 we were the first contractor to sign up to The Climate Group's 3 initiatives: RE100 (renewable energy), EV100 (electric vehicles) and EP100 (energy provision). These initiatives make public our commitment to a 100% electric vehicle fleet and procuring 100% renewable electricity across our operations by 2030. They also commit us to occupying and developing buildings that operate at net zero carbon emissions by 2030.
RE100
Currently, all of our site and office supplies where we directly procure the electricity, use renewable supplies. Our commitment to RE100 sees us go further so that by 2025 90% of our operational electricity supplies will be from renewable sources (including customer supplies that we use on site) and by 2030, 100% will be from renewable supplies.
EP100
The EP100 initiative confirms our commitment to only occupy assets that are net zero carbon in operation by 2030. All of our offices are leased assets, so we have workstreams focussed on influencing our landlords and on our internal management processes.
EV100
Joining EV100 confirms our commitment to achieve a 100% electric fleet by 2030.
Sustainable transport
Now or Never commits us to reducing our absolute mileage by 65% and to migrate to an 100% electric fleet by 2030. During 2020, we focused on implementing new measures to achieve this.
In January 2021, we launched our new car scheme benefit, giving all of our people access to a large range of cars with emissions under 120g CO2/km, at reduced rates whilst saving on tax and NI.
The benefit replaces our old company car scheme and uses a salary sacrifice arrangement, which means that the more sustainable the car selected, the more money is saved.
Our green bonus scheme was updated to further support and incentivise our people to choose electric vehicles. In 2020, we paid out £22.8k in green bonuses.
During 2021, we will be supporting our local offices and sites by installing charge points.
Carbon Trust certification
In 2020 we remained one of the only construction contractors to hold The Carbon Trust Standard. Companies which achieve the standard must achieve an overall score of at least 60% and a repeat of the assessment takes place every two years. We were recertified in 2019 and gained a score of 89%, which was described as best-in-sector.
We are a pioneer of The Carbon Trust's Supply Chain Standard – the world's only accreditation for companies managing emissions from their supply chain. In 2020 we became the first construction contractor to achieve Level 3 and continued to encourage our supply chain partners to reduce their emissions.
Carbon neutral since 2012
In line with our target to become a zero-carbon company by 2030, we are focussing on reducing our emissions to zero.
In the meantime, we continue to offset our unavoidable emissions and have been carbon neutral or net zero since 2012. In 2020 we invested in the Uganda Borehole Rehabilitation Project to offset our 2019 emissions – the third year we have supported the project. The project works with local communities to identify and repair broken boreholes, which reduces the need for communities to boil water before drinking, thus reducing carbon emissions. This project was the first to implement the new Gender Equality methodology from the Gold Standard.
We self-declare our carbon neutrality according to PAS 2060 guidelines.
Reducing carbon emissions on site by going electric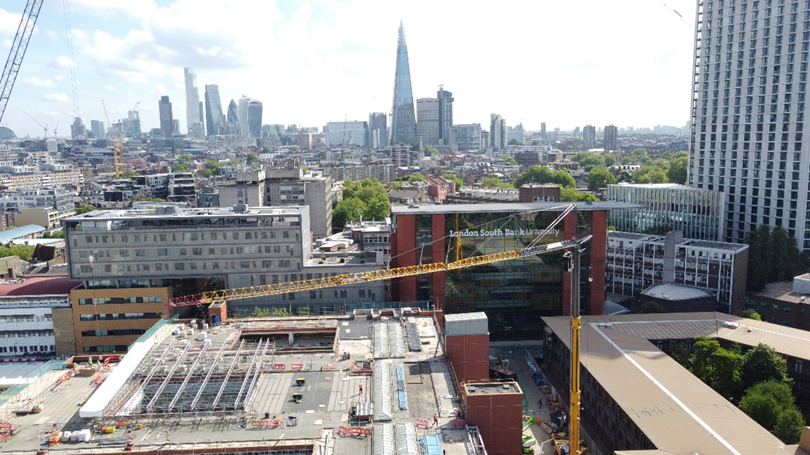 Our Interiors business trialled an electric crane to reduce carbon emissions on their refurbishment project at London South Bank University. The Ainscough Crane Hire's Liebherr MK140 is a diesel combustion crane, with the option to plug into mains power on site. Benefits of the electric crane include reduced carbon emissions, savings on fuel costs, improved air quality and minimal noise.
[1] Homeworking emissions calculated using the EcoAct methodology. https://info.eco-act.com/en/homeworking-emissions-whitepaper-2020