We are committed to working closely with partners that are aligned with our values, strategic goals and demonstrate a commitment to sustainability. By partnering and sharing our experience with our supply chain partners, we're contributing to making our industry more responsible.
IKO Roofing are a great example. Since working with us, they have become Gold members of the Supply Chain Sustainability School, registered to the Considerate Constructors Scheme and developed a sustainability plan for their business, which includes carbon reduction initiatives such as hybrid cars on their company car scheme. They have also been carbon neutral since 2008, provided over £125k of site inspections for free and delivered a residential training course for over 100 Willmott Dixon people.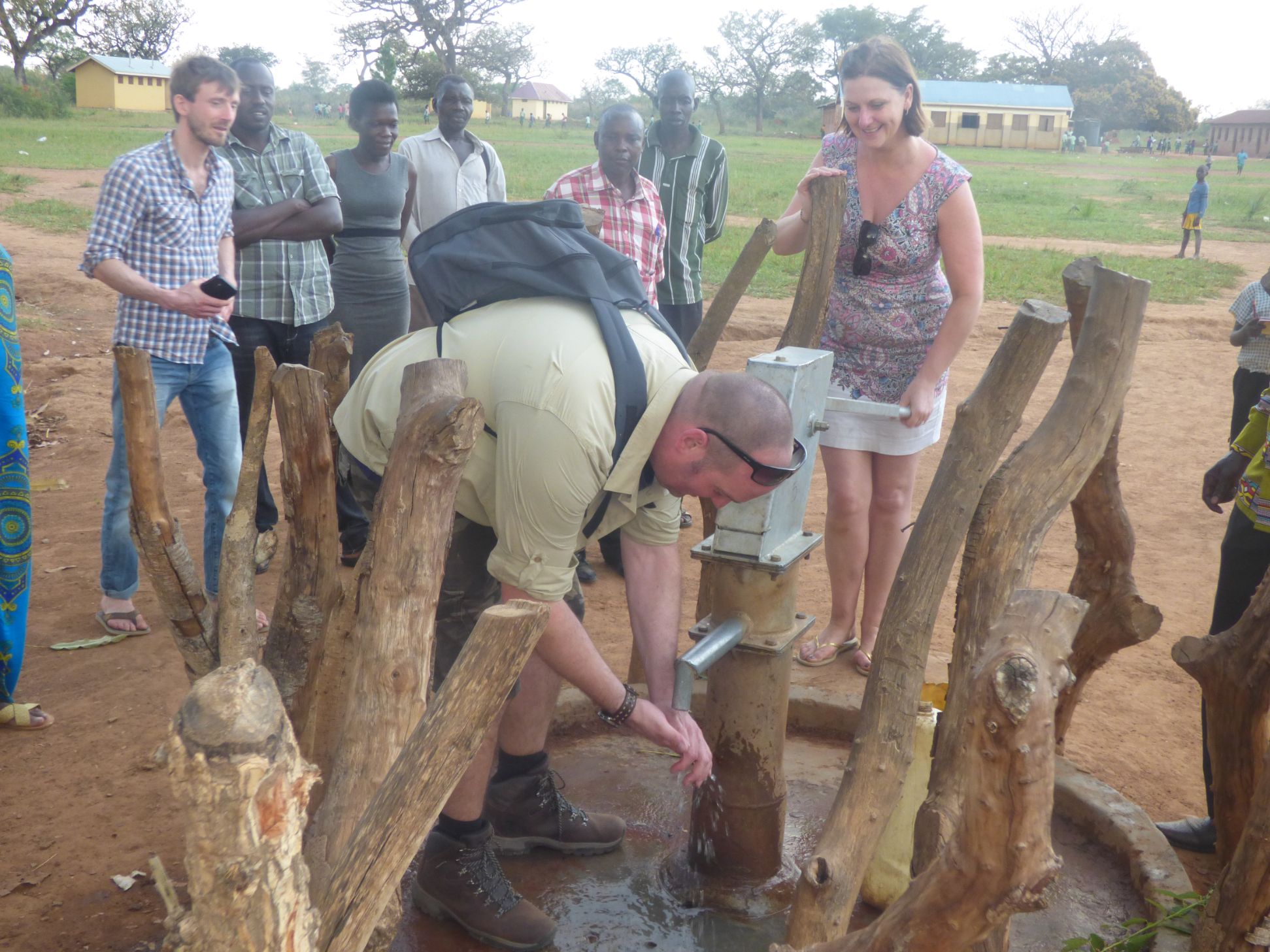 Above: In 2020, Kerry Parker-Wray, who works at IKO, was in Uganda visiting the beneficiaries of their carbon offsetting projects at the same time Rob Brown, our sustainability champion visited the project.
Reducing carbon in our supply chain
In 2021 we became the first contractor, and one of only three companies to achieve Level 3 of the Carbon Trust's Supply Chain Standard. The Standard recognises organisations which can demonstrate that they are measuring, managing, and reducing carbon emissions from their supply chains.
To achieve Level 3, we worked closely with two of our key category A supply chain partners and demonstrated that energy saving interventions - identified as part of achieving Level 2 - had been implemented, with both partners reporting significant carbon and cost savings. The criteria for Level 3 also required us to expand our approach and engage with more of our supply chain partners. This involved collaborating with three further groundworker companies, helping them baseline their carbon footprint. We also examined the embodied carbon from the materials purchased and developed carbon reduction strategies.
The Carbon Trust gave us a score of 82%, reflecting our robust strategies and plans for climate action in our supply chain, and successful engagement with suppliers.
We are a founding member of the Supply Chain Sustainability School. This virtual school provides free training on a range of environmental and social topics for the industry's shared supply chain. At the end of 2020, 120 companies in our supply chain were members of the school.
We are part of the Supply Chain Sustainability School's Carbon Working Group. In 2020, we contributed to the development of a tool that all the school's members can use to calculate their carbon footprint. The school comprises more than 5,000 subcontractors.
Prompt payment
We know how important cash-flow is to our supply chain partners, particularly those that are SMEs, so we make it a priority to pay them promptly. In 2020, our average payment time was 30 days with 98% paid within 60 days.
As well as giving our partners more confidence to work with us, this shows that our cash position does not rely on unfair supply chain payment terms or on holding back payments.
Sustainable Procurement
We reviewed, updated and reissued our Sustainable Procurement Policy to reflect the direction of our new business strategy, Now or Never.
Changes include requirements to minimise and measure the embodied carbon in the goods, works and services we procure and ensuring that all our supply chain partners undertake initiatives to promote greater environmental responsibility. The updated Policy stipulates closer collaboration with our mandated supply chain partners through the achievement of sustainability performance targets and for all of our goods partners to be active members of the Supply Chain Sustainability School.
The Policy outlines our preference to work and engage with supply chain partners that pay the Real Living Wage to their workforce. It also makes clear our intention to support SME's and social enterprises where we can. An example of the positive impact we can have on our communities through engaging with businesses with a social purpose can be found here.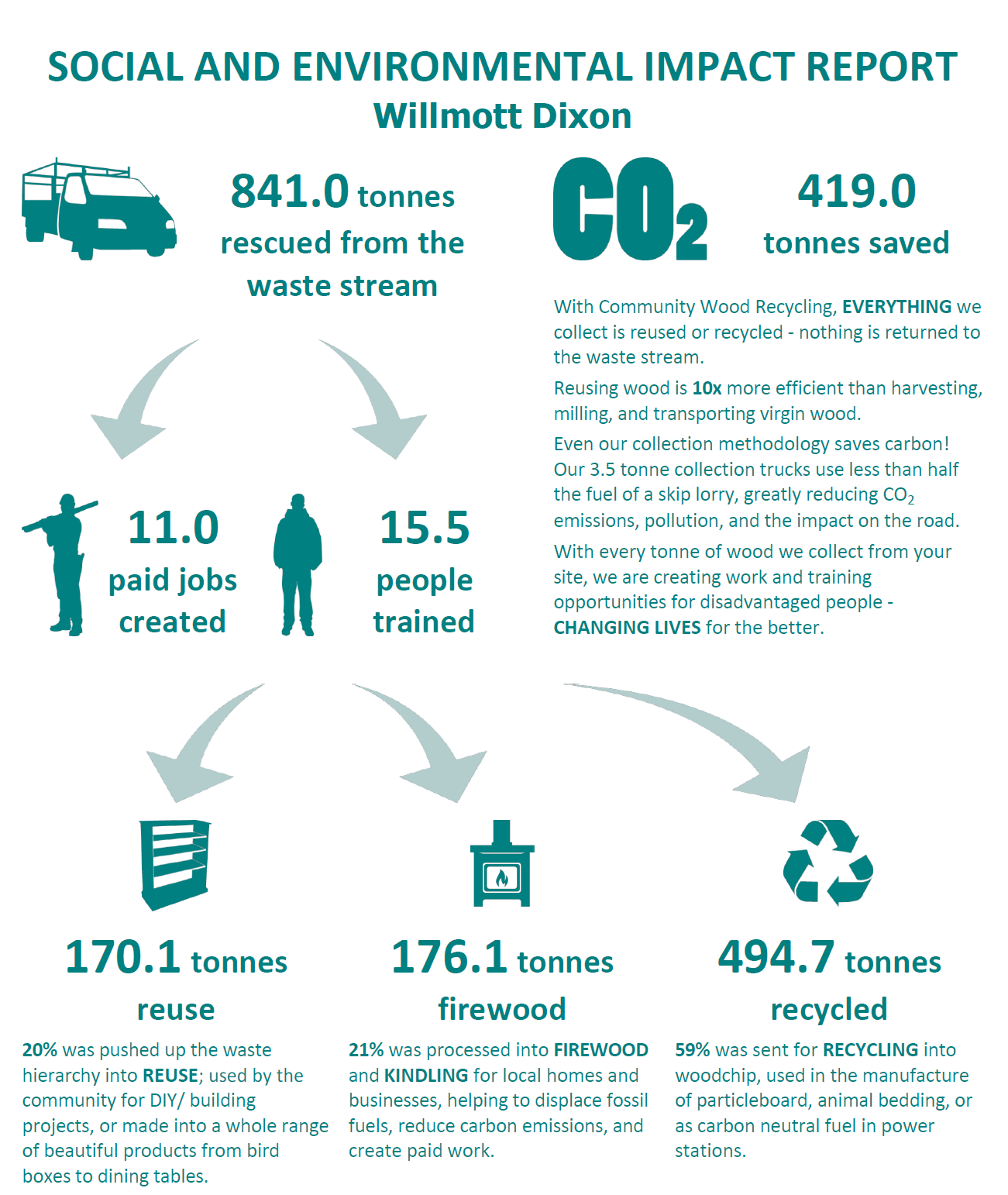 A good example of how we are embedding social enterprises in our supply chain is Community Wood Recycling. This organisation collects, reuses and recycles waste wood from our sites, while simultaneously providing opportunities for disadvantaged people who collect the wood and turn it into items for sale. In 2020, Community Wood removed 841 tonnes of wood from our waste stream which created 11 paid jobs and helped to train 15 individuals.
Modern Slavery
The construction sector is at high risk of labour exploitation and we all have a role to play in preventing it.
Earlier this year, we published our updated Modern Slavery Statement, which summarises our progress and future plans. Our updated Sustainable Procurement Policy stipulates that all our goods supply chain partners must comply with the requirements of the Modern Slavery Act and Willmott Dixon's Modern Slavery policy. In 2021, we are continuing to work with Stronger Together to roll out an extensive training programme to upskill our key supply chain partners in the trades most at risk of modern slavery, which include groundworks, precast concrete, labour and security agencies, drylining and decorating. This training is free to our partners and focuses on spotting the signs of modern slavery and taking action to prevent it.
As part of our continued responsibility as a signatory of the Gangmasters' and Labour Abuse Authority's Construction Protocol, and as a founding member of both Stronger Together's Construction Group and the Supply Chain Sustainability School, we continued to raise awareness of the issue of modern slavery.
We are signatories of the Supply Chain Sustainability School's People Matter Charter. The aim of the Charter is to address people issues, regardless of where they exist globally. The charter demonstrates our commitment to improving standards for our people and our supply chain.