Climate change is, without doubt, one of the biggest challenges the world faces today, and as a responsible business, we must play our part in addressing this. It takes a significant amount of energy to manage our operations, and construct buildings. But we are reducing the amount of energy we use year-on-year as we find new ways of becoming more energy efficient.
We calculate our carbon footprint using international standards (the Greenhouse Gas protocol and ISO14064) and our carbon footprint is verified by The Carbon Trust, as part of our accreditation to the Carbon Trust Standard.
Total emissions (tCO₂e)
| | | | | | | | | | | |
| --- | --- | --- | --- | --- | --- | --- | --- | --- | --- | --- |
| | 2010 | 2011 | 2012 | 2013 | 2014 | 2015 | 2016 | 2017 | 2018 | 2019 |
| Total Willmott Dixon emissions (tCO₂e) | 14,141 | 14,239 | 14,337 | 13,659 | 11,449 | 11,294 | 9,227 | 8,568 | 8,523 | 7,635 |
| Intensity - emissions relative to turnover (tCO₂e/£m) | 15.8 | 15.7 | 15.7 | 15.2 | 13.8 | 10.1 | 8.6 | 6.6 | 6.4 | 6.13 |
In 2015 we set a new, industry-leading target to halve carbon emissions intensity by 2020 (compared with 2010). By the end of 2018 we had reduced our emissions intensity by 59%, beating our target three years early. Since then we've further reduced our emissions bringing our total emissions intensity reduction to 61% by the end of 2019.
The reductions are mainly due to improvements made by our site teams. By ensuring early grid connections, and by continually improving the way that site cabins are set up, they are reducing reliance on carbon-intensive diesel.
Methodology
For our carbon emissions we have adopted an operational control approach to the calculations, whereby we have opted to include anything that we directly pay for, within Scope 1 and 2, as well as for selected Scope 3 emissions (more below). The reason for this is that these are the emissions that Willmott Dixon is able to influence and control.
Scope 1
Site and office gas, site diesel and business mileage for company cars.
Scope 2
Site and office electricity.
Scope 3
Grey fleet business mileage, all commute mileage, transmission and distribution losses, and train travel for both business and commuting.
Willmott Dixon categorises its GHG emissions as Scope 1, 2 and 3 as described in the WBCSD/WRI Greenhouse Gas Protocol Reporting standard (revised edition, March 2004). Emissions have been calculated as tonnes of carbon dioxide equivalent (tCO₂e) for scope 1, 2 and selected scope 3 sources using conversion factors listed in the relevant Defra Greenhouse Gas Conversion Factors for Company Reporting for the relevant year. All Scope 2 emissions are calculated using the location-based methodology.
Energy
In line with the best practice of the Government's Streamlined Energy and Carbon Reporting which are part of The Companies (Directors' Report) and Limited Liability Partnerships (Energy and Carbon Report) Regulations 2018, our energy use is included for the first time for 2019. As of 2019, our energy footprint has also been externally audited by Bureau Veritas. Our energy scope follows the same methodology as our carbon reporting (using kWh rather than CO₂e ). However, our energy footprint also includes energy from activities on site where we have consumed the energy but are not directly paying for it (client electricity).
Energy Use
2019
| | |
| --- | --- |
| | 2019 |
| Energy Use (including customer procured energy) (kWh) | 35,830,867 |
| Energy Use (excluding customer procured energy) (kWh) | 29,800,766 |
All our offices and all our new sites (where we are responsible for energy procurement) are powered by 100% natural renewable energy.
In 2019 we completed an Energy Savings Opportunity Scheme Phase 2 submission - a mandatory energy assessment scheme for UK organisations meeting the criteria.
Travel
Travel is another key area for us. Initiatives like our green bonus scheme for people choosing low emission cars, are helping to reduce our carbon footprint. In 2019 alone, we paid out £43k in green bonuses. We also reward our people for car sharing, paying out £13.3k in 2019 for shared passenger miles, at a rate of 5p per mile for both the driver and the passenger.
The scope of our transport reporting has broadened since 2015 when we reported on our fleet emissions only. We now include train travel for business and commuting. Despite this, we have seen a reduction of 4% in absolute transport emissions between 2015 and 2019.
A recent review of our car fleet profile and associated emissions has found that the efficiency of our fleet has improved by 3% since 2015. This is due to the 120g CO₂/km emissions cap we impose on cars on our company car list, and the generous incentives we offer to our people choosing lower emission cars.
In 2019 we increased our focus on improving the efficiency of our company car fleet. Our company car list now offers over 100 different models of EVs, PHEVs and hybrids. We also installed electric car charging points at a number of our offices.
We improved our Bike4Work scheme, increasing the allowance to £10k and promoted agile working to prevent unnecessary travel.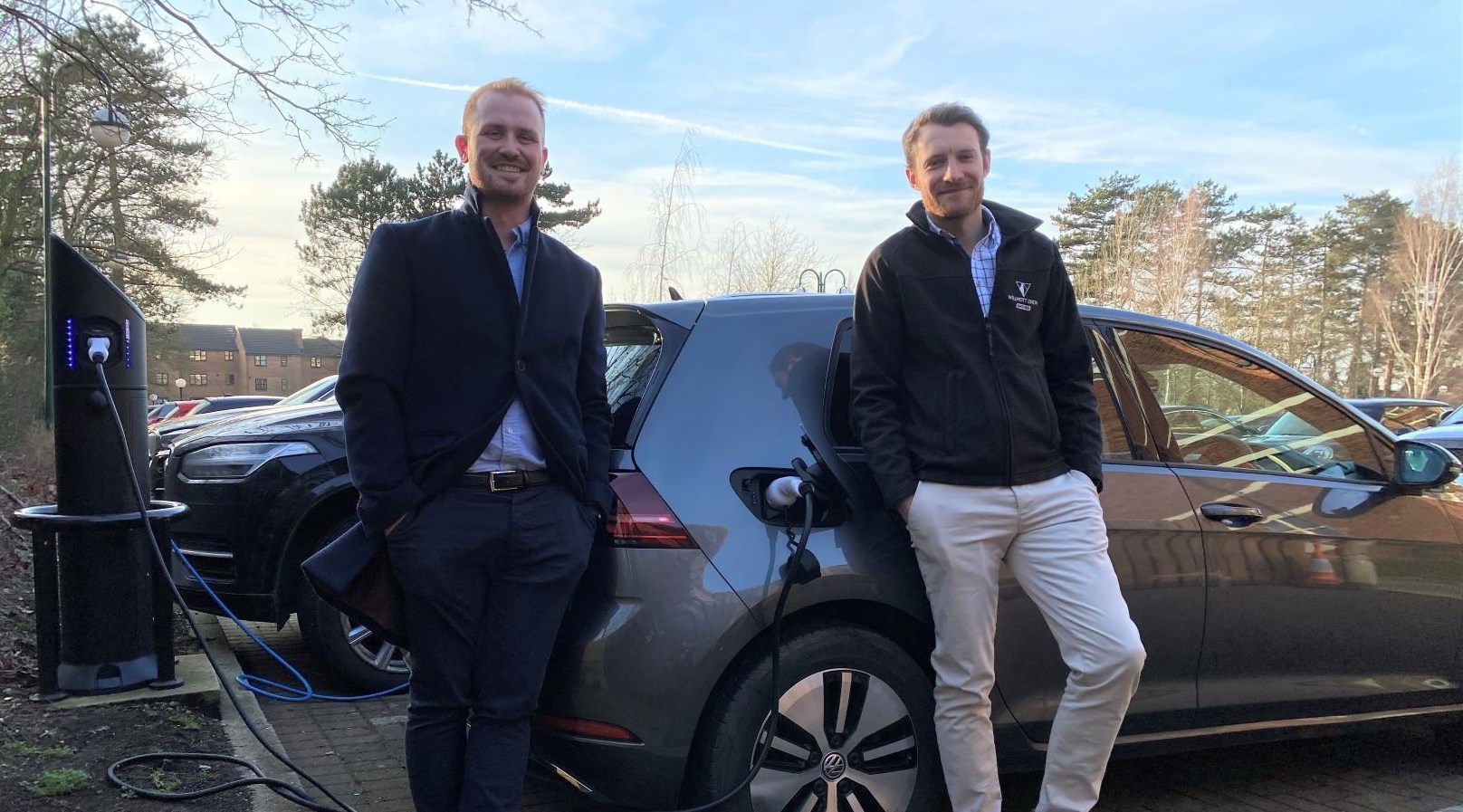 Caption: The new charging points at our head office site.
Carbon Trust certification
We are the only construction contractor to hold The Carbon Trust Standard. Companies which achieve the Standard must achieve an overall score of at least 60% and a repeat of the assessment takes place every two years. We were recertified in 2019 and gained a score of 89%, which was described as best-in-sector.
We are a pioneer of The Carbon Trust's Supply Chain Standard – the world's only accreditation for companies managing emissions from their supply chain. In 2019 we continued our work to encourage our supply chain partners to reduce their emissions and began to prepare our application for Level 3 of the accreditation to be submitted in 2020.