Globe Theatre team bring Christmas joy for disadvantaged young people
The Willmott Dixon team restoring the Globe Theatre in Stockton-on-Tees are going the extra mile to answer the Christmas wishes of a number of disadvantaged children in the town.
In partnership with Stockton-on-Tees Borough Council and its Social Care team, the company sent out Christmas cards to local children who may otherwise not get many presents this year owing to circumstances beyond their control. The cards invited each child to write down what they would like for Christmas.
In total, 58 children wrote back with their wishes and the Willmott Dixon team, together with their supply chain partners and the council, quickly set to work to make sure they received their chosen present.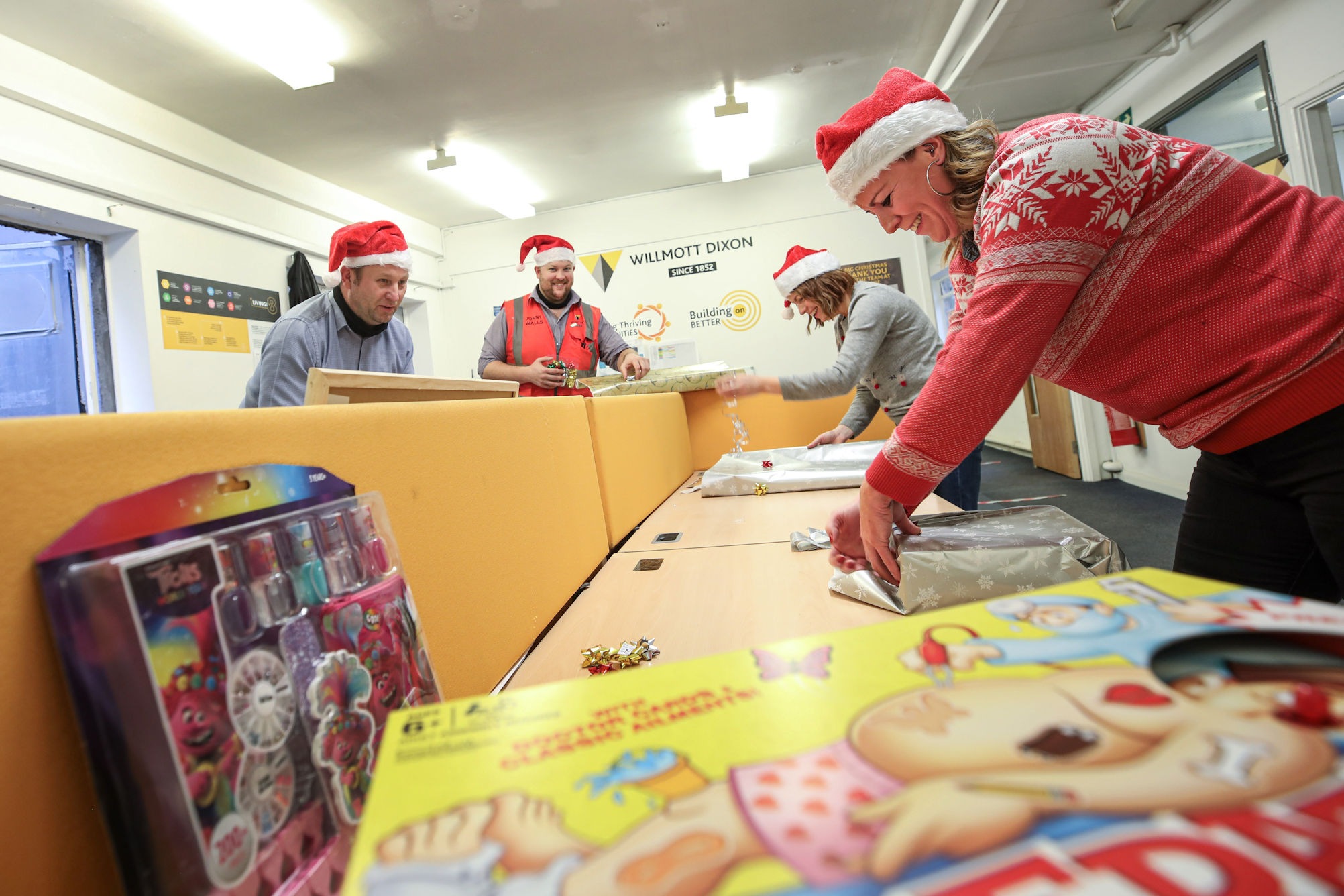 The team then spent their own time wrapping gifts for every child – with a special elves workshop set-up that abides by all social distancing and safety guidelines – ready to hand them over to the council's Social Care team this week who will ensure they can be delivered by Father Christmas.
Willmott Dixon's Stockton Globe construction manager Mark Wolverson explains:
"The challenges of this tough year have affected us all differently and Christmas is a chance to lift our spirits. We know for some children in our communities, there may not be any presents to open on Christmas morning, so we wanted to do something about that with the Christmas card idea.
"There are some truly amazing children that have written back to us and with the help of our fantastic team, we are really proud to be able to make a small difference to their lives this Christmas."
Councillor Lisa Evans, Stockton-on-Tees Borough Council's Cabinet Member for Children and Young People, said:
"This is a wonderful campaign to support families and their children in the Borough and I'm sure there will be lots of happy faces when they open their gifts on Christmas morning. I'd like to say a huge thanks to Willmott Dixon for their generosity and efforts to make a positive difference to those who may need a little extra help at this time of year."
Willmott Dixon is well known for its work in local communities and believes it has a purpose beyond profit. In 2018 the company was awarded the prestigious Queen's Award for Enterprise in the category of Promoting Opportunity through Social Value.
Mark Robinson, group chief executive at SCAPE, said:
"This year has been challenging for so many people, especially society's most vulnerable. Supporting the communities in which our partners, like Willmott Dixon, deliver projects is paramount to us, and it's wonderful to see the team at Willmott Dixon and Stockton-on-Tees Borough Council make some Christmas wishes come true for disadvantaged children across the local community.
"The construction industry has an important role to play in ensuring projects benefit the communities they serve, whether that's through a legacy of new employment and skills, or through acts of kindness like this – and both are hallmarks of Willmott Dixon's long-term commitment to generating social value."
Willmott Dixon's experts in heritage and iconic community buildings are currently restoring the 3,000 capacity Art Deco Globe to transform and revitalise the high street landmark so that it will again soon be welcoming top names of theatre, music and comedy.
To be operated by the Ambassador Theatre Group for the next 25 years, the project was procured through the Scape Major Works framework, and has received funding support from the National Lottery Heritage Fund. It is expected to complete in Spring 2021.