Company to deliver its second project in a year for Gloucestershire Constabulary following the refurbishment of its Sabrina Centre in 2020
Willmott Dixon has added to its blue-light workload with a £12.8m contract to create an operational hub for Gloucestershire Constabulary, the second project in a year for this police force following the refurbishment of its Sabrina Centre in 2020.
Procured using the Procurement Hub framework, this latest project involves redeveloping the existing operations base at Bamfurlong, located between Gloucester and Cheltenham at the end of the Golden Valley bypass. The project will include the delivery of a new operational hub building, kennels, stable, and equine block. It will be the first time that Gloucestershire Constabulary will have all their operational units in one place.
Willmott Dixon has worked closely with the Office of the Police and Crime Commissioner to develop the site; and identified over £10m worth of savings, including over £6m through the refurbishment of an existing vehicle workshop.
Neal Stephens, managing director for Willmott Dixon's Wales and West region said: '
'It is great to be working again with Gloucestershire Constabulary. This is yet another exciting project that will transform its operations by providing a fit-for-purpose, modern environment for officers and staff.
"Our team developed a close working relationship during our time on the Sabrina Centre which has enabled us to quickly help the Force to develop this scheme and start on site.''
Gloucestershire Police and Crime Commissioner Martin Surl said:
"This redevelopment will not only improve the service the Constabulary is able to provide to the public and enhance the wellbeing of officers and staff, but will also meet our commitment to 'a green and pleasant county' by using a brownfield site and reducing environmental impact.
"In short, Bamfurlong will be an enhanced asset for the Constabulary and OPCC for generations to come and we are delighted the work can now begin."
Chief Constable Rod Hansen said:
"This is good news. Bamfurlong is of critical importance to us as it provides a geographically ideal base for a range of police units and gives our teams quick and easy access to major routes in the county when responding to incidents. However, it has been in urgent need of redevelopment for some time and it is very important we support our staff and make sure they have the best possible working environment so they can provide the best service to the public."
Andy Peck, Client Relationship Manager for Procurement Hub said
"It is great to have continuity with Gloucestershire Constabulary and follow on from the first project 12 months ago. Due to the early engagement between Willmott Dixon, Procurement Hub and Gloucestershire Constabulary, we were able to build on our success of last year."
This the latest blue light project for Willmott Dixon in the South West after completing the £25m Exeter Police station last year, the first of its kind to achieve the BREEAM 'Excellent' sustainability standard. Across England and Wales, the company has delivered a portfolio of blue light facilities worth nearly £200m in the last three years as emergency forces make better use of their property to become more efficient, save on running costs and create a better environment for staff and detainees.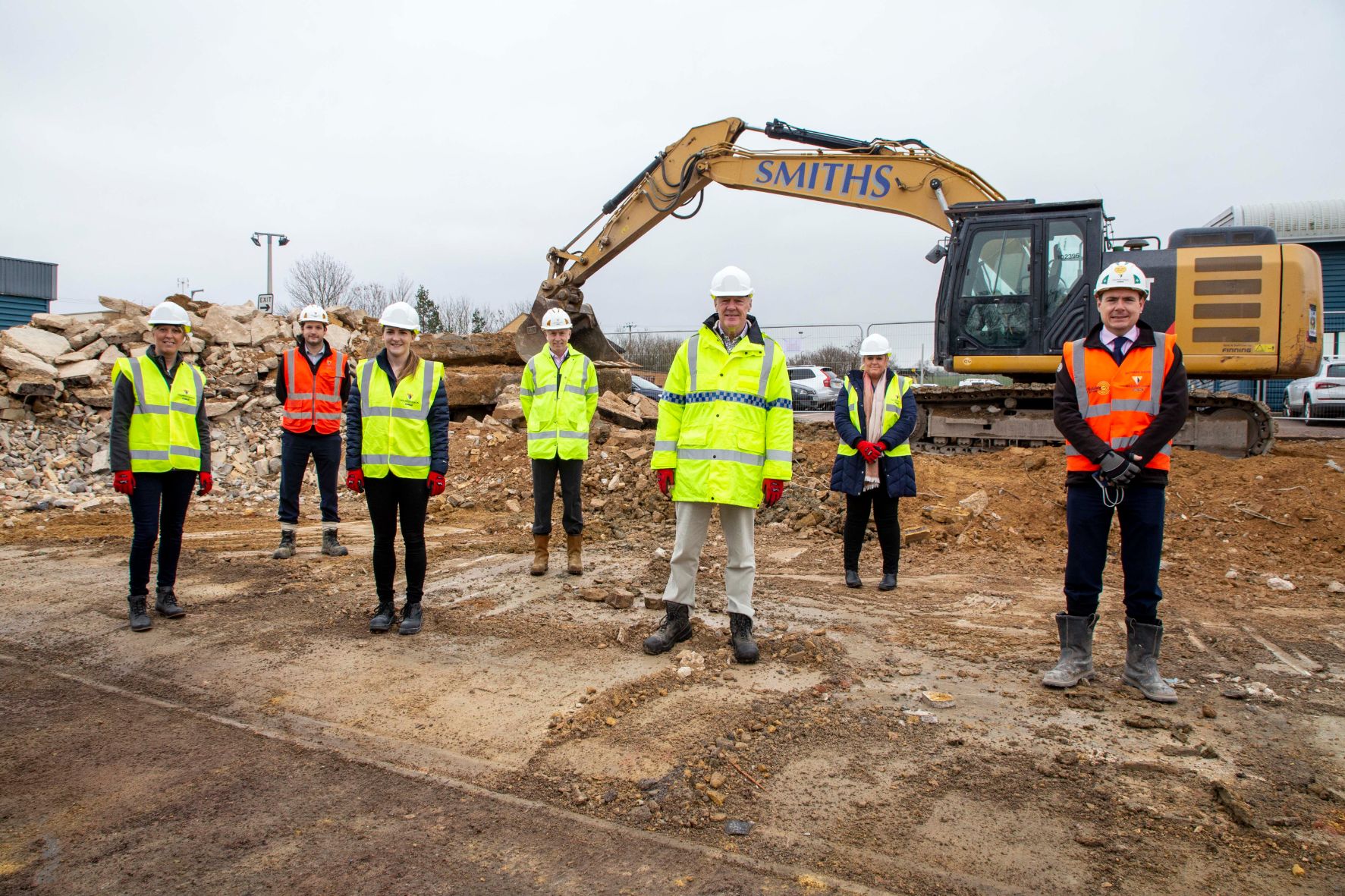 The project broke ground on 18 March, Gloucestershire Police and Crime Commissioner Martin Surl and Vicki Heselton, Head of Estates and Support Services joined representatives from Willmott Dixon and architects Corstorphine and Wright to commemorate the milestone.