Company strengthens blue-light order book with latest wins
Willmott Dixon is extending its track-record for blue-light facilities after being chosen to build a new headquarters for Merseyside Police Force and new Control Suite for West Midlands Police.
The work for Merseyside Police Force sees Willmott Dixon construct a 12,800 m2 facility on St Anne's Street in Liverpool to create four storeys of modern office space for up to 1,175 people. Willmott Dixon has been working closely with Merseyside Police Force since 2015 to get its new headquarters through planning and into the construction phase.
For West Midlands Police, Willmott Dixon will deliver a new Control Suite that involves demolishing an existing firearms building and replacing with a 6,536 m2 four-storey building that includes a command and control unit, key in providing support for large-scale events in the region.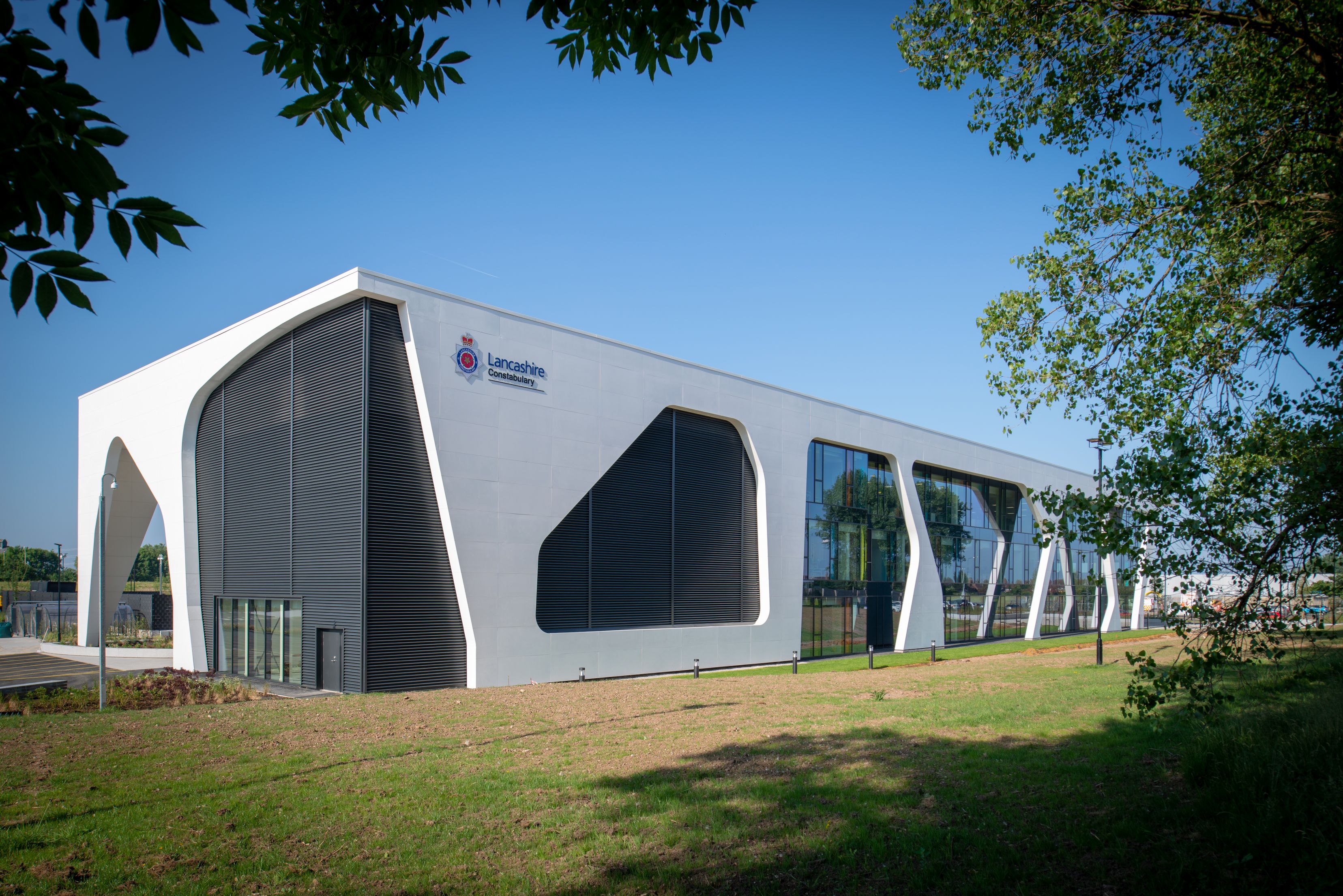 A new area HQ for Lancashire Constabulary - just one of a suite of new blue light facilities recently delivered
Both schemes were procured through Scape Group frameworks, with Merseyside via the National Major Works framework, now superseded by the Major Works, England and Northern Ireland, part of the National Construction framework under which the West Midlands scheme was procured through.
These latest contacts underlines Willmott Dixon's presence as a major constructor of blue light and custodial facilities, with the company responsible for schemes worth over £150m in the last two years as emergency forces make better use of their property to become more efficient, save on running costs and create a better environment for staff and detainees.
Recent examples of Willmott Dixon's work include the 36-cell Birchin Way Custody Suite in Grimsby, 42-cell West Division Police HQ in Blackpool, 40-cell Exeter Police Station, 50-cell Sheffield Custody Suite and Lincolnshire Blue Light Campus, which brings together Lincolnshire's fire and rescue services, police force and ambulance service under one roof. The company also built a new home for North West Ambulance Service and Greater Manchester Fire and Rescue Service in Wigan.
Willmott Dixon also has its CODE pre-designed custody suite solution to help police forces minimise the risk of detainee injury, increase security of evidence and provide a more efficient and sustainable working environment. CODE has three models; Alpha providing up to 28 cells, Bravo up to 36 cells and Charlie for forces that require more than 36 cells; with the first facility, Birchin Way Custody Suite, completed early this year.
Talking about the West Midlands scheme, Dan Doyle, director at Willmott Dixon, said: "We are delighted to be creating an important new hub for West Midlands Police. Throughout the project, we will be investing time and resources equivalent to £2.4 million into community activities and delivering an enrichment programme with local schools giving students real-world understanding of career opportunities available to them in the construction industry."
Mark Robinson, Scape Group chief executive commented, "The government has pledged 20,000 new police recruits over the next three years, therefore we must ensure that the facilities available are both fit for purpose and future proofed for this rapid expansion of officer numbers. By harnessing the extensive experience Scape and Willmott Dixon have in working with police authorities, Merseyside and West Midlands Police Forces can be confident that their projects will be delivered with dedicated expertise and a full commitment to ensure that taxpayers money is spent efficiently and locally."