Centre to help sports people with major injuries wins RICS award
What started as the brainchild of disabled rugby player Matt Hampson to deliver a rehabilitation centre in Leicestershire for injured athletes and their families has led to a major national award.
Matt and the Willmott Dixon team behind the Get Busy Living Centre (GBLC), created for the Matt Hampson Foundation, saw the centre win the National Community Benefit Award from the Royal Institute of Chartered Surveyors (RICS) at its grand final.
The centre came about after Willmott Dixon led a team who transformed a former aircraft hangar into a facility for those who have suffered life-changing injuries through sport.
Nick Preedy, construction manager at Willmott Dixon, oversaw the project. He said:
"This extraordinary project is an outstanding example of how collaborative working can deliver a project that is changing lives. We are so pleased that it has won the most prestigious award of all and we are certain it will continue to be recognised for its importance both locally and nationally."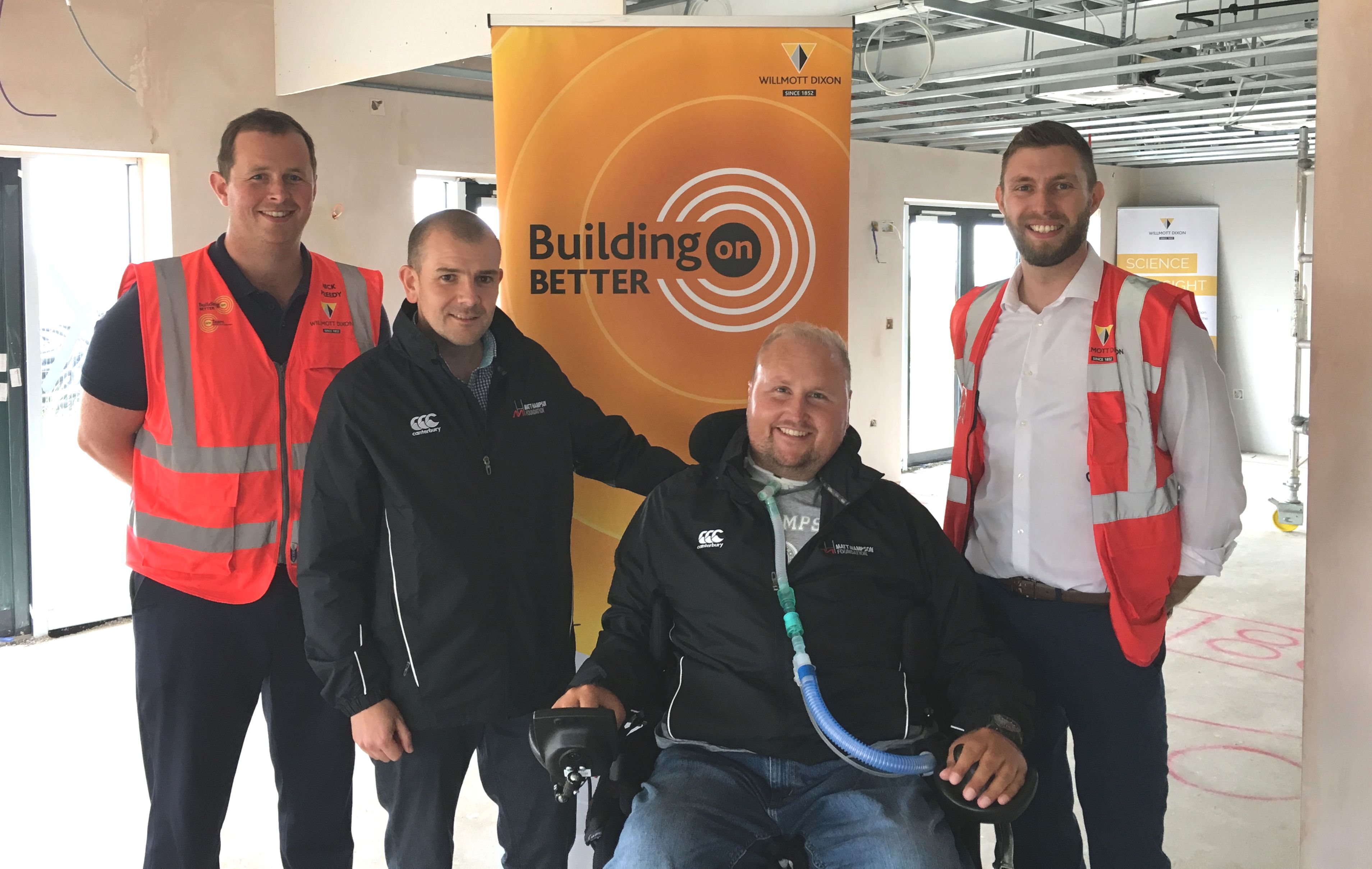 During the construction process, Willmott Dixon engaged with local communities to get involved in the scheme and the Centre's legacy. The contractor invited volunteers from local villages in Leicestershire to help plant 30 of the trees on the site, making them feel part of a great facility.
Willmott Dixon also raised £40k by inviting people to purchase paving slabs surrounding the centre and engrave them personally; creating extra funding for the Foundation and spurring on further support.
Matt Hampson was there to pick up the award with his team. Matt said:
"The Get Busy Living Centre provides the much-needed rehabilitation facilities and social spaces for our beneficiaries and their families, and we are thrilled to see it completed and in action.
We could not have reached this stage without the hard work and generosity of our project partners and we'd like to extend a huge thank you to those who have contributed to the build, whether it is materials and supplies or simply their time and expertise. The support we received has been absolutely invaluable and has allowed us to make our dream a reality – we simply wouldn't be here without them."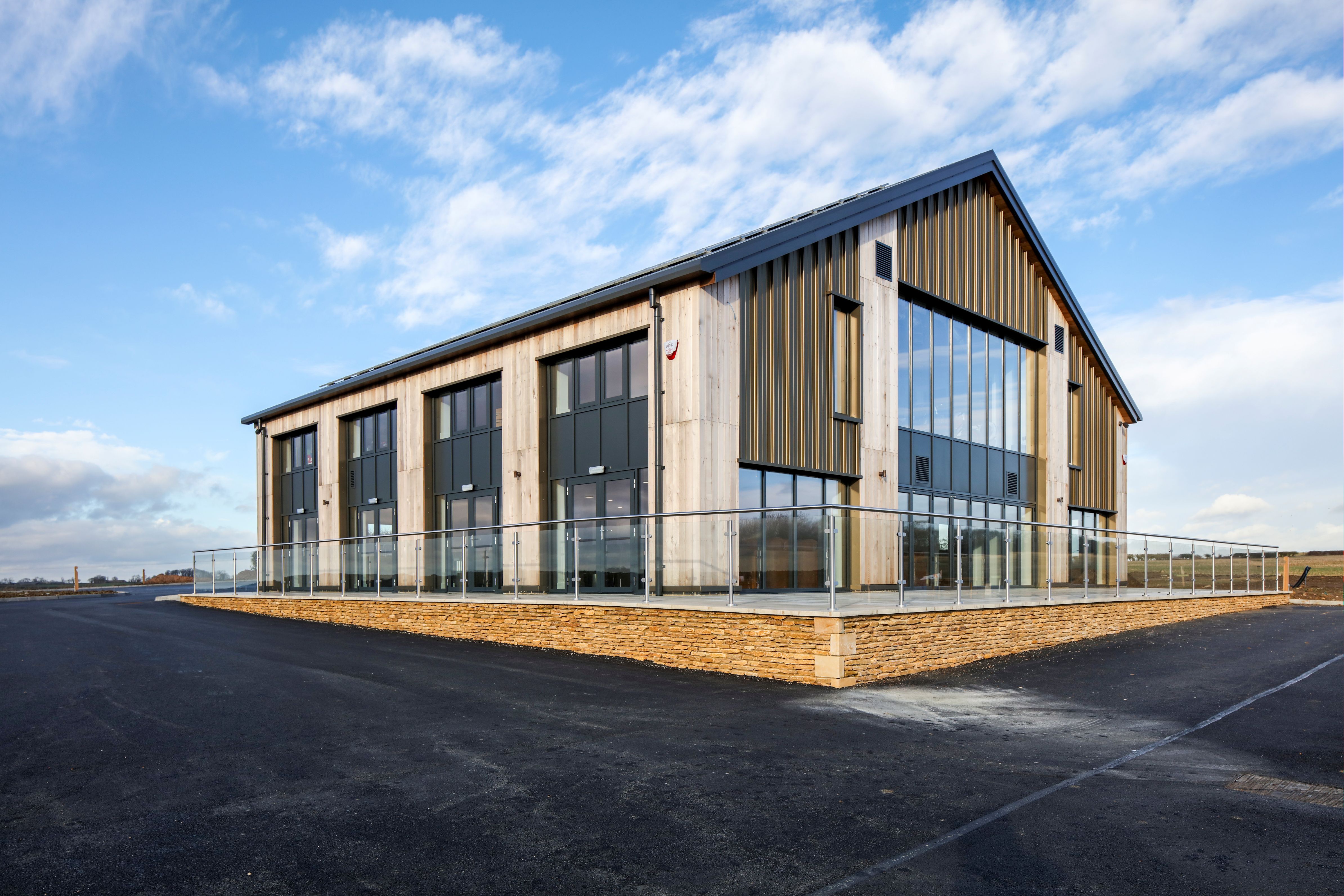 The GBLC (above) opened to the Foundation's beneficiaries in summer 2018 with the aim of giving local, national and worldwide beneficiaries the chance of life-changing rehabilitation. Sports professionals, the local community, physiotherapists, clinicians and trainers can also use the facility, as well as it becoming the home to the Foundation's headquarters.
The project has been delivered by a number of local partners, many of which offered their time, services, materials and expertise for free, including:
Main contractor: Willmott Dixon
Professional services firm: MDA Consulting
Architects: Corporate Architecture
Interior designers: CPMG
Engineering consultants: Couch Perry Wilkes, Salus, Derry Building Services and BSP Consulting
PR and marketing agency: Cartwright Communications
Earthmoving, ground engineering and restoration contractor: Barton Plant, Barton Civils and supplier Peter Bennie, all part of The Bennie Group and Plaza Groundworks
Building materials suppliers: GRS Roadstone, Aggregate Industries, Breedon Group, William Hercock Building Supplies, MJ Robinson, Sage Roofing, Sage Envelope Contractor, Sinit, Bonham & Berry, McGovern Crane Hire, Studwelders, Charnwood Fencing, Morris Vermaport Lifts, Diamond Flooring UK, Metsec, Kingspan Insulation, Interfuse, Elmsmere, Forbo and Gerflor, Midland Floor Screeds.
Demolitions specialist: AR Demolition
Construction services provider: WysePower, Advante, Michael Smith Switchgear and Portacabin.
Retailer: Furniture Village.
Matthew "Hambo" Hampson was involved in an accident during an England Rugby practice match in 2005 and has been tetraplegic since then. He continues to actively fundraise for the Foundation and is the figurehead of the Matt Hampson Foundation.