Kind hearted staff from Willmott Dixon and affordable housing provider, Home Group, have come together to give Ewanrigg and Netherton Community Centre a fresh new look.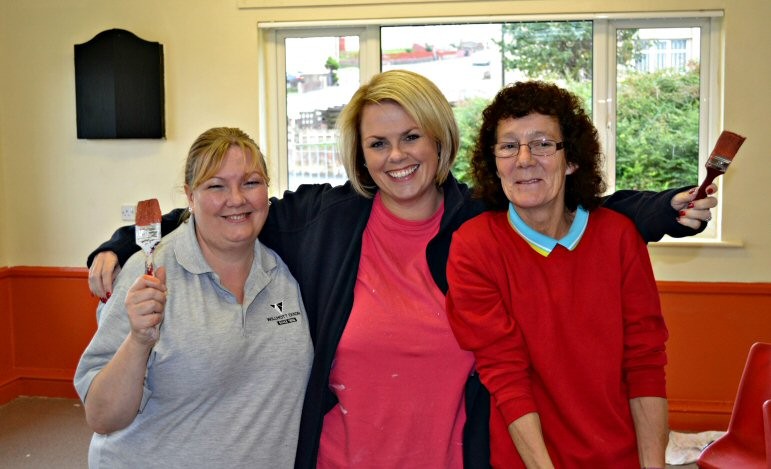 The handy helpers from Cumbria spent a day painting the inside of the popular community centre to give it a new lease of life. The centre, which is run by ENTRA (Ewanrigg and Netherton Tenants and Residents Association), hosts a variety of activities each week including chess club, youth darts, Tuesday lunch club, bingo, fitness and cooking classes and computer lessons for over 50's.

Willmott Dixon's community team was approached by the centre to undertake the work after they installed a new kitchen at the beginning of the year. Impressed with the kind actions of the company, the volunteer group asked for further assistance with the painting. Customer and community partner for Home Group's North West branch, Jill Blight explains: "We are committed to leaving a legacy in the areas in which we work and so were thrilled to be approached by the centre to undertake further work.
"This was not only a great project which will benefit everyone who uses the centre, but it was a fun partnership project for us too. We hope that this work helps attract more people to the centre."

Sharon Barnes at Ewanrigg and Netherton Community Centre, said: "We are delighted with the work that has been carried out – it's great to see large companies paying a particular interest in local communities. As a centre that's run by volunteers it's great that we were able to source outside assistance. We are delighted with the outcome – the centre now looks fresh and clean for all to enjoy."

Willmott Dixon Partnerships works with Home Group, one of the UK's largest affordable housing providers, to deliver responsive repairs and voids maintenance along with planned works and gas inspections to nearly 17,000 properties in the Central and North West regions of the country.

Andrea Thorn, Home Group head of customer service, said: "As a not-for-profit company we're not only interested in providing homes for those who need them but also creating and supporting thriving communities. The work which has been done here will improve an asset which can be enjoyed by the entire community."

This project comes after the community actions of Willmott Dixon staff received a Royal seal of approval, with the company achieving a Queen's Award for Enterprise in Sustainable Development. One of the areas highlighted by judges in making the award was the £1 million worth of community investment made by the company and staff each year to local good causes. The company has also received recognition after scooping gold in the 'Excellence in Social Responsibility' category of the prestigious Investors in People awards, whilst also recently receiving Business in the Community's CommunityMark with commendation for its societal benefit programme.