We came 4th in the Sunday Times Best 100 Companies to work for list and won the 'Discovering Potential' award
99% of our people say they are proud to work for Willmott Dixon
10% of our people trained as Mental Health First Aiders
21% of our people have over 10 years' service
In 2018 we spent £3.4m on learning and development – that's around £1.5k per employee
Our success depends on us continuing to attract, retain, develop and promote the best people.
However, our industry faces a significant skills gap. Generation Y – those currently aged between 20 and 35 – will represent half the workforce by 2020. We want to attract the brightest and best of this group. We must ensure that those already working for us feel safe, contented and challenged. And we need to ensure our teams are diverse so that we can better represent the communities we serve.
This section looks at what we did in 2018 to address these areas.
Gender balance and diversity
We have always worked hard to ensure that we are a company where people are given the opportunity to succeed – whoever they are and regardless of their background. But our business, like the industry in general, has a gender imbalance.
% female and BME
| | | | | | |
| --- | --- | --- | --- | --- | --- |
| | 2014 | 2015 | 2016 | 2017 | 2018 |
| % female | 22.2% | 21.7% | 22.8% | 24.3% | 25.5% |
| % BME | 6.9% | 7.1% | 6.9% | 7.0% | 6.6% |
In 2018 we announced our ambitious aim of gender parity – across all grades – by 2030. We are making good progress on our strategy to achieve this.
Like the construction sector as a whole, we have a significant gender pay gap which we are working hard to close. We publish our gender pay gap on our website annually in line with The Equality Act 2010 (Gender Pay Gap Information) Regulations 2017. Our Construction business currently has a mean gender pay gap of 36.2%. Further information about this, and what we are doing to close the gap, can be found here.
We've been challenging assumptions about the way we work, trialling agile working practices in some of our offices and sites. We piloted a 'Welcome Back' programme, where we have helped to build the confidence and skills of people who have been out of work for over two years, due to caring commitments. Three out of five individuals who joined via the programme now have permanent positions with us. We've also been advertising jobs on platforms that women are more likely to visit.
These initiatives have resulted in a higher proportion of women joining us – across all four pay quartiles. Overall, the percentage of women recruited in 2018 increased from 31% to nearly 35% in 2018. We had 21% more women in senior grades in 2018 than in 2017, and we promoted 33% more women.
We also beat our target for our management trainee intake (our future leaders). In 2018 our target was 40% female. We achieved 51%.
We continued to sponsor Inspire Me, Construction News' initiative to improve gender diversity in the industry.
We know we need to attract more people from black and minority ethnic groups in order to build teams that are more reflective of the communities we serve. We are focussing our efforts on increasing the pool of candidates that apply to us, and have started rolling out unconscious bias training to all of our people, which will help us recruit the best people for the job, irrespective of individual characteristics or background.
We're also influencing our supply chain partners, and hosted a series of diversity and inclusion workshops for them last year.
Attracting the next generation
Our industry needs more skilled people, so we are playing our part in inspiring the next generation and developing the construction workers of the future. We train our management trainees as STEM or Construction Ambassadors too. 167 of our people are Construction Ambassadors and 45 are trained as STEM Ambassadors.
To encourage our young people to consider a career within the construction industry, we are increasing the number of work experience placements we provide and are attending more careers fairs and events at educational establishments. In 2018, we held focus groups with A-level and University students, to identify how we can better promote construction careers to this cohort. We are adapting our recruitment campaigns to reflect the feedback we received.
We hosted our 'Open Doors' week, which is an opportunity for the public, including schools and colleges, to book and visit active sites. The initiative provides an insight into the delivery of large-scale construction projects and the various job roles that contribute to their success.
Our management trainee programme is a key way in which we are supporting young people into the industry. Young people can enter the programme with or without a degree.
| | | | | | |
| --- | --- | --- | --- | --- | --- |
| | 2014 | 2015 | 2016 | 2017 | 2018 |
| Management trainees | 99 | 123 | 119 | 134 | 131 |
| Directly-employed apprentices | 13 | 5 | 3 | 8 | 8 |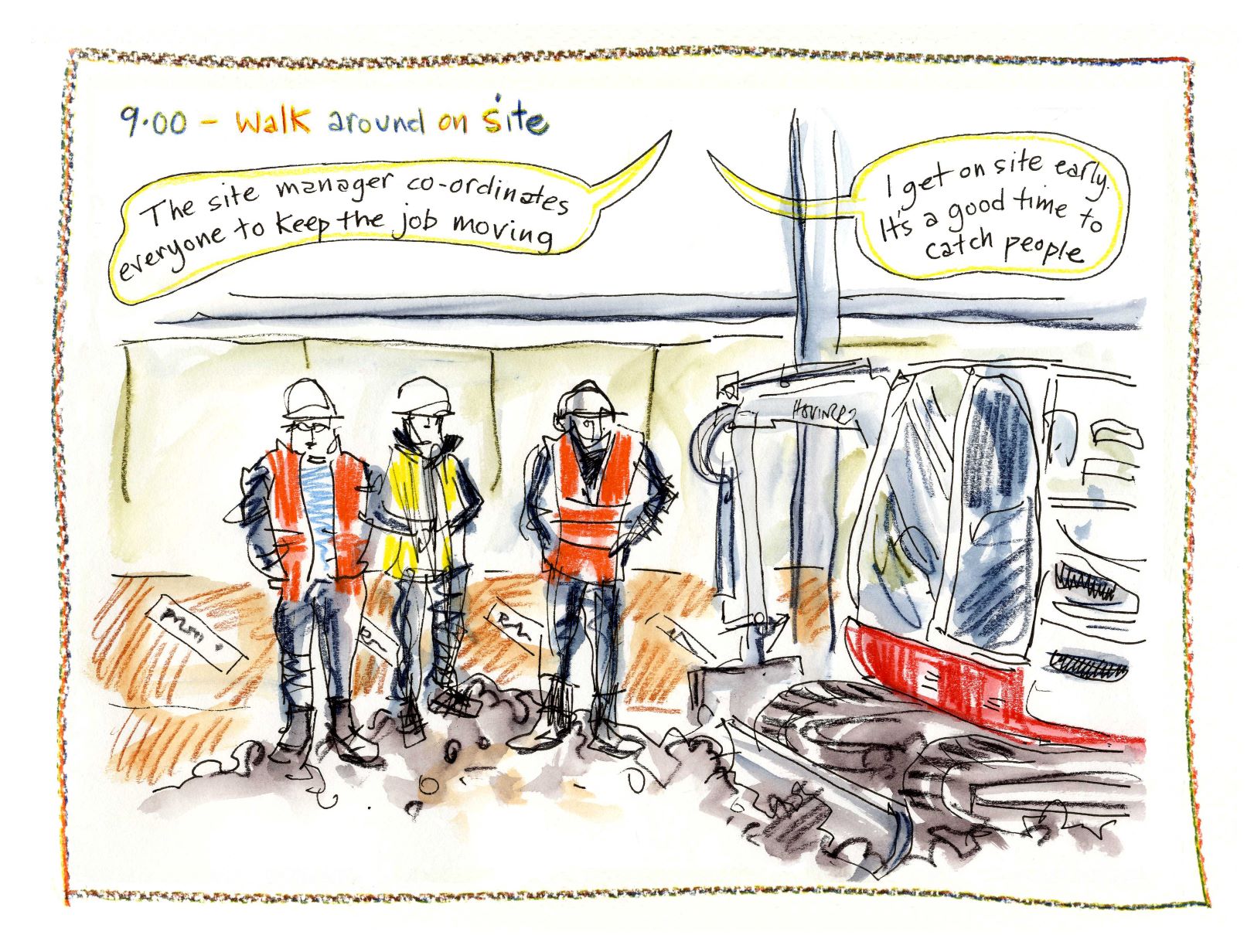 Drawing by Lynne Chapman, with thanks to the University of York.
In partnership with the University of York, we were able to showcase what work is really like on a construction project. During a normal working day on site, Senior Building Manager, Joshua Heavens, was shadowed by artist, Lynne Chapman, who sketched the 'Day in the Life of Building Manager' story. Capturing the story was part of the University's research on the creation of buildings and helped to dispel the myths about construction roles.
Members of the 5% Club
As members of the 5% club, we pledge that at least 5% of our workforce will be in a formalised apprenticeship, a sponsored student or on our graduate development schemes. At the end of 2018, 6.3% of our people fulfilled those criteria.
Being an employer of choice
We came 4th in the 2019 Sunday Times Best 100 Companies to work for list, and received a special 'Discovering Potential' award for our push to help those from disadvantaged backgrounds find work in the construction industry. The judges commended us for being a "company that offers opportunities to a wide range of individuals. They've helped ex-offenders, the homeless, retired forces personnel and people who've taken long career breaks, all find their way back into employment!"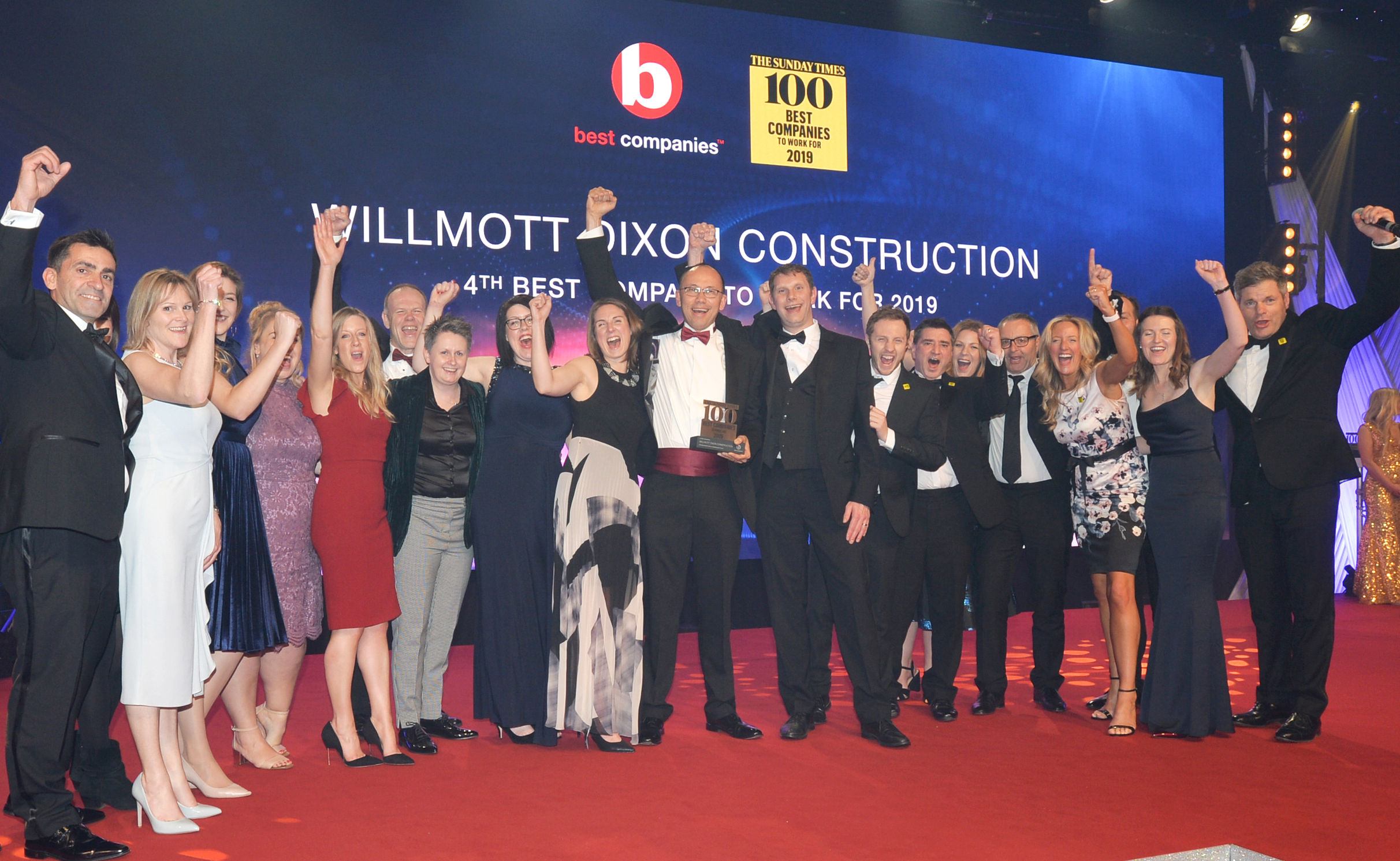 In 2018 we came 4th in the Sunday Times Best 100 Companies to work for list, and were awarded a special "Discovering Potential" award.
Happy people are more efficient and productive, and play an important role as ambassadors for our company. We measure our people's levels of engagement with the business annually, through our staff survey, and with regular pulse checks.
Our 2018 employee engagement score was 80/100. This is a world-class score – but we continue to strive for ways of ensuring we remain an employer of choice. All feedback from our survey is analysed and comments suggesting improvements are incorporated into forward plans.
Annual 'Your Say' Staff Survey employee engagement score (weighted score out of 100)
| | | | | |
| --- | --- | --- | --- | --- |
| 2014 | 2015 | 2016 | 2017 | 2018 |
| 77 | 79 | 80 | 79 | 80 |
Developing and inspiring our people
Continuous learning is critical to the success of our business, and we lead the industry in the amount we invest in developing our people. The £3.4m we spent in 2018 represents £1,576 per employee.
Total amount spent on employee learning and development
| | | | | |
| --- | --- | --- | --- | --- |
| 2014 | 2015 | 2016 | 2017 | 2018 |
| £1.5m | £1.8m | £2.5m | £3.1m | £3.4m |
In 2018 we developed and launched a new online sustainability induction, to help people identify the role they could play in supporting the delivery of our Sustainable Development Strategy. We also created a new two-day sustainability course for our high-potential managers, which focusses on purpose and innovation.
Both our Construction and Interiors businesses hold the Gold Investors in People accreditation.
2018 Management Trainee Challenge
The Willmott Dixon Management Trainee Challenge is designed to help our future leaders develop key skills such as leadership, communication and empathy.
In 2018 eight trainees from across our business identified, planned and delivered local community projects on behalf of the Willmott Dixon Foundation, with support from our people and our supply chain. Through their work, 13 community buildings were renovated, over £20,000 was raised and 6,000 people are to benefit.
The winning challenge brought together colleagues and supply chain partners to refurbish five children's homes in five days, and deliver a training course to empower a group of women lacking in self-confidence.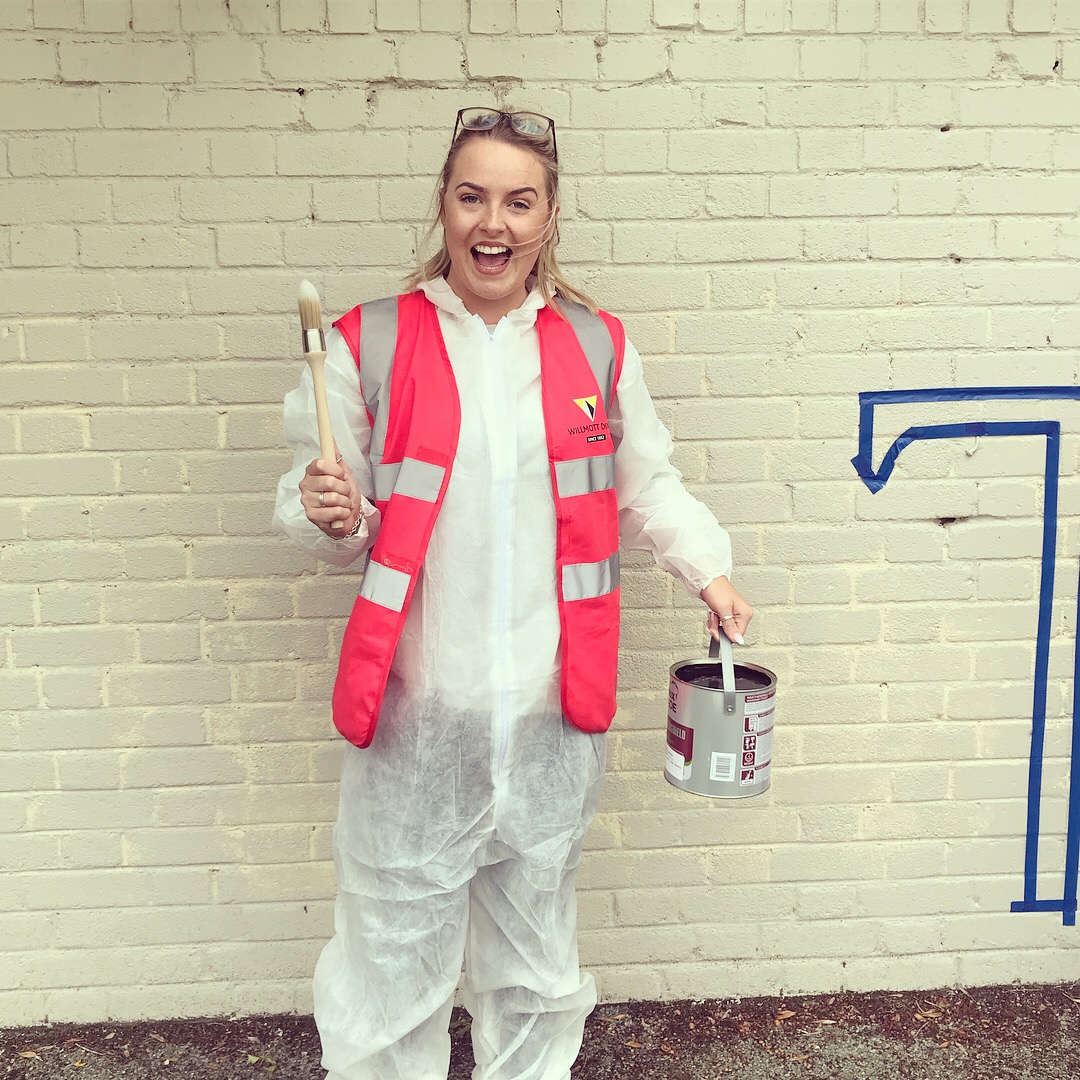 Megan Kennedy led the winning 2018 trainee challenge. She said: "Our Foundation challenge gives you an experience like no other, project management skills, relationship building, bargaining tools and importantly a different perspective on life."
Accreditations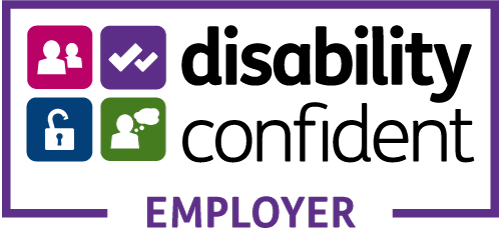 We are an approved Disability Confident employer, and are able to use the badge on our communications. We continue to be a member of the Business Disability Forum.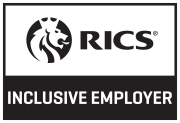 We are signatories to the RICS inclusive employer scheme. This means that we have committed to drive behaviour change, and to look carefully at our employment practices, to ensure that we place inclusivity at the heart of what we do.
Awards
Re-Thinking Director Julia Barrett was named 'Sustainability Executive of the Year' at the BusinessGreen Leaders Awards.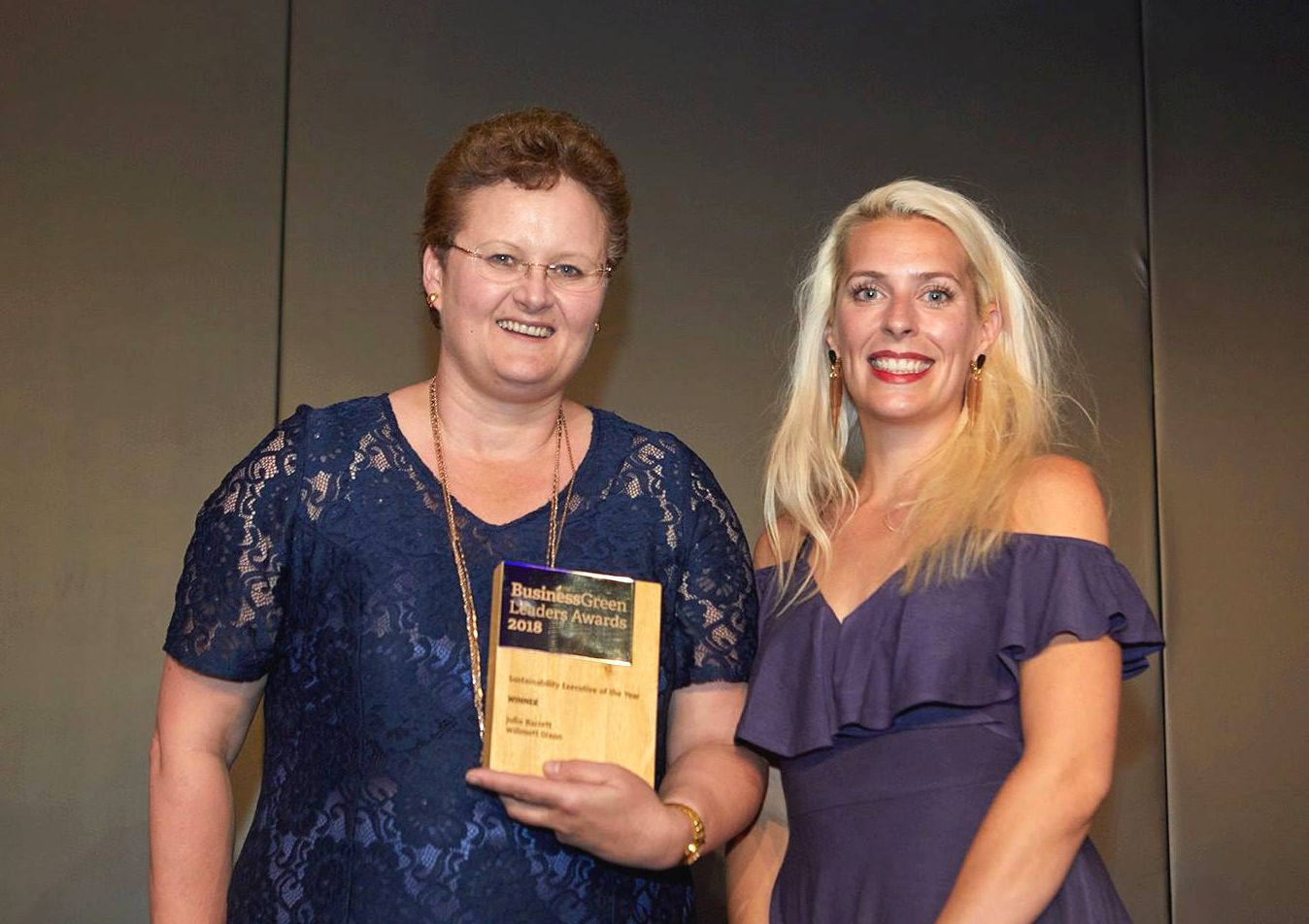 Our Group HR and diversity manager Sally Cleaver was named Construction News' 'HR Star of the Year'.